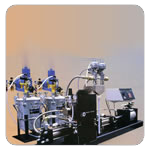 2500 Single Acting

For production Potting, Encapsulating, Molding, or Central Filling of 2-part Reactive Formulations with Abrasive Filters which settle out of suspension.
System Specifications
Ratio range: 1:1 - 20:1
Ratio Accuracy: ±1%
Viscosity Range: 1 cps - 500,000 cps )Some viscous materials may require heating or pumping.)
Shot Size Range: 1/10cc - 760cc (depending on ratio).
Standard Features
Positive displacement piston metering with positive ported, 3-way flow directional valves (NOT check valves) maintains very accurate ratio.
In-line measuring design prevents side-loading when handling wide ratio formulations.
Single-acting design allows filled materials to be returned to their agitated containers to prevent settling and damage to the metering system
No-purge mix/dispense assembly with adjustable valving provides air-free dispensing.
Abrasion-resistant metering cylinder, seals, and hardware
Options
Heating of individual materials or the entire system
Wide range of ASME rated vacuum/pressure tanks with or without material agitators.
Heavy plated cylinders for extreme duty
Low level indicators with audio/visual alarm.
Pot-life timer with alarm and auto-shot feature.
Methods of shot control: Operators, time or volumetric
2500 Single Acting

Double click video for full screen
Click Title on Video to view at YouTube
Parts & Accessories