Accessories
Accuracy, reliability, repeatability, and our dedicated service staff will provide you with the tools and support needed in today's manufacturing environment. With hundreds of adhesive chemistries on the market, specific application knowledge can be the difference between the success and failure of your project. Contact us for selection assistance.
---
5-Gallon Pail Level Sensor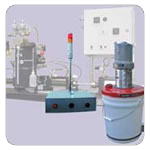 The 5-gallon pail level sensor is a non-contact, adjustable level sensor that provides low level information inside a covered pail. It eliminates the need to lift the cover to check levels. The sensor may be used in any non-metallic container to sense level. It eliminates the possibility of running equipment dry. With the use of additional sensors the system may be used to monitor several containers.
---
Articulating Dispense Arm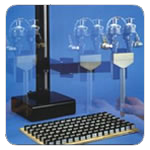 Provides X-Y-Z motion to the mix/dispense head. Allows the mix head to move freely in 3 dimensions over a 12" x 18" area.
Reduces operator fatigue
Increases productivity
May be retrofit to exisiting systems
---
Autoclave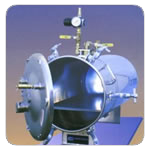 Suitable for:
Ballasts
Switches
Converters
Sensors
Many other components
Standard Features:
Pressure to 120 psi
Vacuum to 1 Torr
Gauges, valves and controls
Diameter: 13", Length: up to 22"
---
Can Roller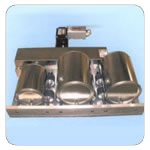 Mixes & Maintains Filler in Suspension
Rugged industrial design
Heavy duty components
Handles quart, 1/2 gallon or 1-gallon cans
Operates with 1, 2, or 3 cans
Adjustable, rubber coated drive wheels
Optimal rotation speed maintains fillers in suspension