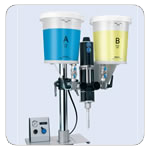 DXBG Table-Top Adhesive Dispenser
Ideal for use with epoxy, silicone, urethane and acrylic, this machine features easy-to-fill 2-gallon reservoirs, stainless steel and plastic wetted components, precise piston metering that assures on-ratio dispensing, and a selector switch that allows continuous or individual shot control.
Technical Data
DXK
Metering Pump Type:
Positive displacement Plunger Pump
Available Volumetric Dispensing Ratios:
1:1
1.5:1
2:1
4:1
10:1
Maximum Output Per Stroke (ml):
53
50
51
48
47
Ratio (Air : Dispensing Pressure):
1:6
Maximum Dispensing Pressure (approx.):
36 bar (530 psi)
Container Volume:
8 Liters (2.11 gal.)
Mixer Interface:
Mixpac MEF Style | Mixpac MEFX Style
Mixer Sizes:
DN 6, 8, 10 & 13 mm
Viscosity Range:
Low to medium high flowable and thixotropic
Air Requirements:
Filtered, lubricated and moisture free
Maximum Operting Pressure (factory set)*:
6 bar (90 psi)
Air Consumption Per Cycle (Full Forward & Return Stroke):
0.0027 m3 at 6 bar (0.09 scf)
Weight:
Approximately 17 kg (35 lbs)
Unit Compatibility:
Non-abrasive expoxies, polyurethanes, silicones, acrylics and polysulphides
*Any modification to the pressure regulator will void any manufacturer's warranty and liability.