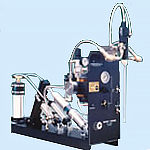 1125 Variable Ratio Dispense System

For small-shot potting and encapsulating, syringe filling, or R&D material testing. Designed to process a wide range of 2-part reactive resin formulations. Highly reliable, dependable meter, mix system.
Standard Features
Positive displacement, variable ratio, piston metering
Automatic, positive-ported flow directional valves
No-pump, snuff-back mix/dispense head (model NPH-5000)
Low-cost, disposable static mixer
Material feed by pump or tank
Shot size control by operator or timer
Options
Heating of individual components or the entire system
Wide range of ASME-coded pressure/vacuum tanks with or without agitators
Low level sensors with audio/visual alarm
Pot-life timer with alarm and auto-shot
Hardened wetted parts for abrasive applications
Shot size control by encoder
Also available: 1125VR with IDS
System Specifications
Ratio range: 1:1 - 8:1 (material dependent)
Ratio Accuracy: ±1% by volume
Viscosity Range: up to 100,000 cps (Viscous materials may require heat or pump feed)
Shot Size Range: 1/10 cc to 160 cc (depending on ratio)
Uses standard static mixers
Contact us for selection assistance.
1125 VR Video

Double click video for full screen
Click Title on Video to view at YouTube.
Parts & Accessories