Dual Cartridge Dispensing Equipment
Dual-cartridge dispensing is a cost-effective and completely portable method of injecting two-component polymers and other components that need to be combined upon application. Ashby Cross equipment requires minimal maintenance and virtually no cleanup. Contact us for selection assistance.
---
AC200 Dual Barrel Cartridge Dispenser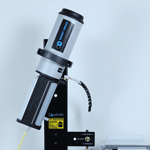 Eliminates operator fatigue
The AC200 benchtop dispenser combines the simplicity and versatility of the dual barrel cartridge with bench mount support, pneumatic foot pedal, air logic, controls, and all the items needed to convert the cartridge to a benchtop unit.
The system may be used with a foot pedal for operator controlled dispensing or the shot timer may be incorporated to ensure shot size repeatability.
Read more...
---
AC50 Dual Cartridge Bench-Top Dispenser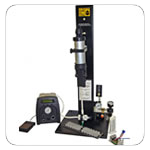 The AC50 uses any 1:1, 50ml dual barrel cartridge and converts it to a bench-top dispenser. The system is standard with pinch valve outlet to prevent dripping and ensure small shot dispensing while the digital timer provides repeatability. The unit is foot pedal actuated and is available with a single or multiple program timer.