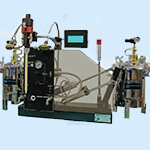 1125 Variable Ratio with IDS

1125 Variable Ratio Intelligent Dispensing System (IDS) adhesive dispensing system is a PLC based adhesive dispenser with touch screen interface. It is a piston and cylinder meter mix machine used for light or mid volume production potting applications. The dispenser is used for epoxy dispensing as well as urethane and silicone with ratios from 1:1 to 10:1 by volume. This meter mix machine can handle unfilled or filled abrasive chemistry. The machine is capable of shot sizes from 0.3 cc to 160 cc (ratio dependent). A wide range of options such as vacuum degas, heating and various tank sizes are available.

The IDS based 1125 VR is a menu based meter, mix that includes standard features such as five slots for storing different shot sizes, a pot life (anti-gel) timer, machine based shot control via digital encoder, cycle counters and cycle set points for process information and preventative maintenance. The standard Statomix® static mixer is used.
System Specifications
Ratio range: 1:1 to 10:1
Ratio accuracy: 1% by volume
Shot size: 0.30 cc to 160 cc - ratio dependent
Utilities: 110VAC 100 psi air
Viscosity: up to 100,000 cps
Adhesive type: Filled or unfilled
Piston/cylinder metering
Features
Menu selectable shot sizes
Encoder mode for shot control
Pot life timer
Dispense head cycle counter
Metering system cycle counter
Auto recharge
IDS prevents fractional shots
Cycle setpoints for maintenance
Touch screen control
Contact us for ordering assistance.
1125 VR Video

Double click video for full screen
Click Title on Video to view at YouTube.
Parts & Accessories