One Part Dispensing Equipment
From applications that require small, precision dispensing to ones that need large quantities of single component epoxies and adhesives, Ashby Cross has the right equipment for you.
With hundreds of adhesive chemistries on the market, specific application knowledge can be the difference between the success and failure of your project. Contact us for selection assistance.
---
Caulking Tube Dispenser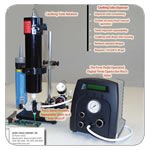 Ideal for bench-top dispensing of RTVs, grease, sealants, caulk and other materials packaged in 10 to 12 ounce caulking tubes. This unit accepts all standard caulking tube packaging with removable or molded nozzle.

The dispenser eliminates operator error and fatigue by creating a bench-top mounted dispenser with foot pedal operation.

To assure accurate, drip-free operation, a pinch valve located on the outlet nozzle, opens and closes by foot pedal or timer control. The timing console is optional but recommended to assure repeatable shot size. Timing console operates on 110V or 220 V. The dispenser operates on house air of 90 psi.

Please contact sales at 978-463-0202 for pricing and additional information.
---
Laying Beads - Precise Flow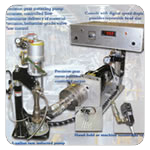 For applying beads with high viscosity materials the Ashby Cross Bead Dispenser pumps directly from the manufacturers 5-gallon or 55-gallon containers directly to the precision gear meter. The gear meter provides precise flow control which yields excellent bead geometry and repeatability.
Read more...
---
Laying Beads - Manually Operated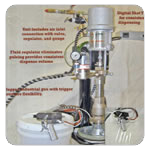 The Five Gallon Ram Inducted Pump System is similar to the Precision Flow Bead Dispenser. However the manual system relies on the flow balanced feed pump to control the amount dispensed.
Read more...
---
Heated Dispense Station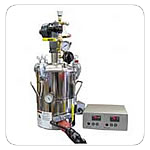 Provides uniform, controllable heating of materials in the tank and hoses for optimal processing. Used with solid or liquid (max temp 130 F) materials the tank and hoses are independently heated with separate thermocouple sensing and proportional control. The console provides multi-zone, digital display for precise temperature feedback. Thermal probe displays the actual material temperature in the tank.

Air-motor driven agitator ensures uniform thermal distribution in the material and serves to assist in degassing, if needed. Available in 2-gallon (shown), 5-gallon, 10-gallon, 15-gallon, and 30-gallon. May be custom configured.