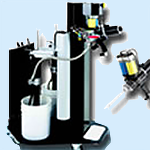 DXR Refill Station & DXH Dispenser

The DXR Refill Station and the DXH Dispenser are ideal tools for bonding applications needing mobility and multiple operators or application points.
The refill station features all stainless steel construction MMA resistant seals accurate ratio, quick refilling of the DXH hand-held dispenser.
The system allows the purchase of adhesives in bulk – reducing operating cost. Multiple DXH hand-held dispensers may be used with one station. Low maintenance costs and simple operation.
The DXR is mobile and flexible in any manufacturing environment, and is 100% pneumatically operated.
The DXH dispenser provides accurate, precise ratio and a fixed shot control. A mode switch allows the operator to apply beads or individual shots providing maximum flexibility.
Most liquid adhesives can be dispensed including epoxy, urethane, silicone, and MMA. Standard ratios are 1:1, 1.5:1, 2:1, 4:1, and 10:1. The DXH can be modified to handle any of these rations with a simple change kit. Please review the data sheet on page two of the flyer for additional technical specifications.
DXR Refill Station

Double click video for full screen
Click Title on Video to view at YouTube
Parts & Accessories