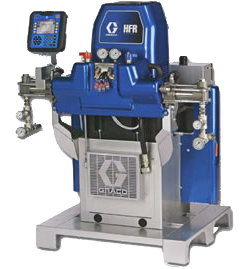 Graco HFR Metering System

The Graco HFR Metering System is a hydraulically driven, fixed ratio, piston metering system capable of up to 5 gpm.
Standard Features
Simple Operation
Low Maintenance
Fast Refilling Reservoirs
Hands-Free Operation
Clean Reproducible Results
Mode Control Shot or Bead
Precise Ratio
Shot Control Adjustment
It is ideally suited for applications requiring relatively high flow rates such as coatings, castings, foam structures, vacuum infusion, RTM, as well as RIM.
The Graco Metering System uses advanced controls to monitor the system and control the dispensing and material conditioning process. The system is capable of producing either a constant pressure material output or a constant flow rate material output. Ratios of 1:1 through 16:1 are available for processing polyurethane foam, polyurethane elastomer, epoxies, silicones, polyureas, as well as soft filled materials.
As a modular system various feed systems can be added such as 5-gallon pumps, 55-gallon pumps or pressure tanks.
Accuracy, reliability, repeatability, and our dedicated service staff will provide you with the tools and support needed in today's manufacturing environment. With hundreds of adhesive chemistries on the market, specific application knowledge can be the difference between the success and failure of your project. Contact us for selection assistance.