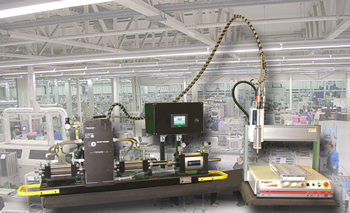 2500 Series with Intelligent Dispense System

2500 Double Acting with Intelligent Dispense System is similar to the standard 2500 Double Acting but includes a touch screen PLC that will control every function on the system as well as provide maintenance information. Shot size tables, sequential shot control, heating, tank level, pot life timer, and other functions are selected on the touch screen. Maintenance related information such as metering cycles and dispense valve cycles are stored with indicator set points. The system will process materials such as epoxy, urethane, and silicone with 1:1 to 20:1 ratio by volume either filled or unfilled. The in-line configuration of the metering cylinders allows processing materials with wide viscosity difference without affecting the accuracy of the ratio. Hardened cylinders and rotary valves along with wear-resistant seals provide prolonged life with abrasive materials. Statomix® Static mixer valves may be stationary or hand-held.
Contact us for selection assistance.
Standard Features
Continuous output - Double Acting
Accurate piston metering
Integrated PLC controls all system functions
Abrasion resistant seals and packings
In-Line metering - Accurate ratio
Rotary valves control flow
Hardened cylinders and valves
Wet cup reservoirs assure seal integrity and extends time between maintenance
Options
Heated tank with proportional control
Vacuum degas
Shot control
Portable cart
Remote gun
Dynamic mixing
Tank agitators
Hi/Low level
Bulk filling
System Specifications
Ratio range: 1:1 - 20:1
Ratio Accuracy: ±1% PBV
Viscosity Range: 1 cps to paste type materials
Shot Size Range: 0.5 cc to continuous
Typical Feed Assemblies
5 Gallon Ram Pump
55 Gallon Ram Pump
5 Gallon Pail Pum