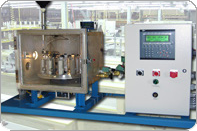 Vacuum Potting Equipment
Integrating a vacuum chamber with the Ashby Cross meter, mix system provides an excellent method to encapsulate or pot electronic circuits in a controlled atmosphere. Several steps are taken to ensure air-free potting compound.
With hundreds of adhesive chemistries on the market, specific application knowledge can be the difference between the success and failure of your project. Contact us for selection assistance.
Material is degassed to as low as 3 Torr in the reservoirs. Heat may be added at this step to ensure wet out and complete de-airing.
Air free material enters the metering cylinders at which point the ratio is established.
Proportioned material is then mixed and dispensed into the part within a controlled atmosphere (vacuum) in the chamber. The vacuum level in the chamber may be as low as 3 to 5 Torr and can be varied as needed.
Multiple passes can be done within the chamber at different vacuum levels to ensure complete wet out.
The chamber may be manual or automatic as needed.
No-Purge static mixers dispense material directly into the chamber.
Read Article: Vacuum Potting Smart Waste Gate Valves
Watch Video

Double click video for full screen
Click Title on Video to view at YouTube