Needles, Syringes & Valves for Dispensing Equipment
Accuracy, reliability, repeatability, and our dedicated service staff will provide you with the tools and support needed in today's manufacturing environment. With hundreds of adhesive chemistries on the market, specific application knowledge can be the difference between the success and failure of your project. Contact us for selection assistance. Ashby Cross is an authorized Techcon Systems distributor.
---
Techcon Systems TE Dispensing Tips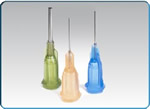 This premium line of dispensing tips from Techcon Systems is burr-free, and has an electro-polished cannula for unobstructed and consistent material flow. The Techcon TE series needle consists of a stainless cannula with a double helix polypropylene hub and is silicone and chloride free. Available in stock at Ashby Cross with straight or bent tip.
---
Techcon Systems TS Dispensing Tips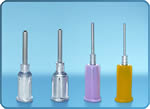 All TS series tips securely fit Techcon Systems syringes and features a variety of performance options. The needle is crimped into an aluminum locking insert, then molded into polyethylene hubs whose color corresponds to gauge size. Corresponds to Luer Lock specification and is ready-to-ship from Ashby Cross.
---
Techcon TS-P Plastic Dispensing Tips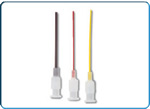 Made from polypropylene, Techcon Systems flexible tip allows access to hard to reach areas and allows you to customize the length. Ideal for CA applications and sold in 1½ inch lengths, these items are ready-to-ship from Ashby Cross.
---
Techcon TT Series Tapered Tips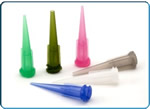 Molded in high density polyethylene with UV light block additive and including a double helix Luer lock hub, the TT Series tapered tip prevents blockage and increases the flow of high viscosity materials. In stock item from Ashby Cross.