Resin Transfer Molding Equipment
---
2500 Double Acting Dispense System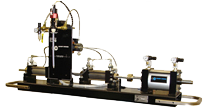 For Resin Transfer Molding
For Use with Glass Filled Materials
Ideal for Applications with Varying Back Pressure
The 2500 Double Acting adhesive dispensing system is designed to accurately proportion, mix, and dispense two-part adhesives in composite manufacturing. In-line metering cylinders ensure precise ratio is achieved while the double-acting design provides a continuous, constant pressure, flow to the mold, ensuring a uniform, defect-free part. The double-acting design eliminates the recharge cycle which provides a more uniform pressure front.
When used with the linear encoder, the volume of material pumped to the mold is precisely controlled and unaffected by changing mold back pressure. The 2500 DA can be used as a room temperature machine or is available with heated components.
Read more...
---
GPFR1000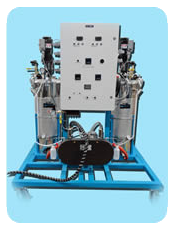 GPFR 1000 - For open mold casting and molding the GPFR1000 gear metering system provides excellent ratio control and continuous flow to an open mold. The system is designed to process a wide range of urethane materials with on-board tanks or from drums. The system has adjustable ratio, variable flow control, a desiccant system for moisture control, along with remote no purge snuff-back dispense head.
Accuracy, reliability, repeatability, and our dedicated service staff will provide you with the tools and support needed in today's manufacturing environment. With hundreds of adhesive chemistries on the market, specific application knowledge can be the difference between the success and failure of your project. Contact us for selection assistance.
Read more...