Pultrusion & Clear Coating Equipment
---
GP80 For Pultrusion, Open Molding & Other Applications with Low Back Pressure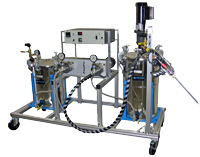 The GP-80 adhesive dispensing system is designed to accurately proportion, mix, and dispense two-part adhesives for the Pultrusion process in composite manufacturing. Precise gear metering pumps accurately proportion two-part materials such as epoxy through the mix/dispense head for filling or maintaining the Pultrusion bath. The adjustable ratio machine features a variable flow controller that can be automatically controlled from level sensors or manually adjusted.
Read more...
---
GPFR1000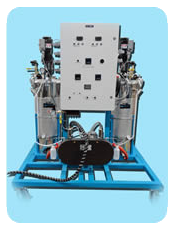 GPFR 1000 - For open mold casting and molding the GPFR1000 gear metering system provides excellent ratio control and continuous flow to an open mold. The system is designed to process a wide range of urethane materials with on-board tanks or from drums. The system has adjustable ratio, variable flow control, a desiccant system for moisture control, along with remote no purge snuff-back dispense head.
Accuracy, reliability, repeatability, and our dedicated service staff will provide you with the tools and support needed in today's manufacturing environment. With hundreds of adhesive chemistries on the market, specific application knowledge can be the difference between the success and failure of your project. Contact us for selection assistance.
Read more...