---
Syringes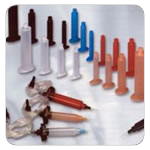 Superior quality components are designed to function with all industry standard equipment. Available is a range of syringes including silicone and chloride free, UV light blocking, and UV light screening. Manual and air powered systems are available.
---
General Valve Information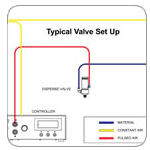 The following are PDF files:
---
Rotary Micro Valve TS5000DMP

The Rotary Valves use a rotary feed screw (auger) to dispense fluid in a positive displacement manner providing an extremely precise control of the dispense process.
---
Rotary Valve -Interchangeable Material Path TS7000

The Interchangeable Material Path Rotary Valve uses a feed screw (auger) to dispense fluid with a rotary displacement (positive displacement) action, allowing very high precision in the dispensing process.