ME Statomix® Static Mixers
The Statomix® ME static mixer is designed to fit most adhesive dispensing systems.
Static mixers from Ashby Cross are available in all sizes and configurations to fit any cartridge or adhesive dispensing system. The ME static mixer is referred to as a "machine" mixer and has blue elements to help distinguish them from other mixers. Machine mixers typically use the stronger acetal plastic to withstand the higher pressures of adhesive dispensing equipment. ME static mixers are designed to fit Ashby Cross, Sealant Equipment, and several other types of meter, mix equipment. Priced below list, they are available with various outlet configurations such as Luer Lock, barbed end with tubing, or custom configurations.
The ME series static mixer has a slightly smaller opening at the entrance than the MS series static mixer.
ME STATIC MIXERS
Mixers for high pressure, ø of bell mouth housing 15.9mm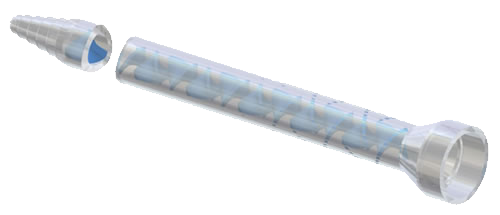 Number of Elements
Inner Diameter mm (in)
Outer Diameter mm (in)
Length mm (in)
Nozzle Diameter mm (in)
Approximate Liquid Volume
ml (oz)
ME 05-24T Static Mixer - Elements POM Blue - Stepped Tip
24
5 (3/16)
8 (3/16)
149
(5-7/8)
1.5 (1/16)
2.3 (0.08)
ME 05-32T Static Mixer - Elements POM Blue - Stepped Tip
32
5 (3/16)
8 (3/16)
188
(7-1/2)
1.5 (1/16)
2.8 (0.10)
ME 06-24T Static Mixer - Elements POM Blue - Stepped Tip
24
6.4 (1/4)
10 (3/8)
185
(7-1/4)
1.8 (1/16)
4.2 (0.14)
ME 06-32T Static Mixer - Elements POM Blue - Stepped Tip
32
6.4 (1/4)
10 (3/8)
235
(9-1/4)
1.8 (1/16)
6.6 (0.22)
ME 06-48T Static Mixer - Elements POM Blue - Stepped Tip
48
6.4 (1/4)
10 (3/8)
334
(13-1/8)
2.4 (1/16)
10 (0.34)
Number of Elements
Inner Diameter mm (in)
Outer Diameter mm (in)
Length mm (in)
Nozzle Diameter mm (in)
Approximate Liquid Volume
ml (oz)
ME 08-24T Static Mixer - Elements POM Blue - Stepped Tip
24
8.0 (5/16)
12 (0.5)
223
(8-7/8)
2.4 (1/16)
8.5 (0.29)
ME 08-32T Static Mixer - Elements POM Blue - Stepped Tip
32
8.0 (5/16)
12 (0.5)
289
(11-3/8)
2.4 (1/16)
11.5 (0.39)
ME 10-18T Static Mixer - Elements POM Blue - Stepped Tip
18
10.0 (3/8)
14 (1/2)
214
(8-3/8)
3.0 (1/8)
12.9(0.44)
ME 10-24T Static Mixer - Elements POM Blue - Stepped Tip
24
10.0 (3/8)
14 (1/2)
276
(10-7/8)
3.0 (1/8)
16.0 (0.54)
ME 10-32T Static Mixer - Elements POM Blue - Stepped Tip
32
10.0 (3/8)
14 (1/2)
355
(14)
3.0 (1/8)
23.0 (0.78)
ME 13-24T Static Mixer - Elements POM Blue - Stepped Tip
24
13.0 (1/2)
17 (5/8)
293
(11-1/2)
4.0 (3/16)
27.0 (0.91)
ME 13-32T Static Mixer - Elements POM Blue - Stepped Tip
32
13.0 (1/2)
17 (5/8)
379
(15)
4.0 (3/16)
34.5 (1.12)
ME COMBINATION MIXERS

Number of Elements
Inner Diameter mm
Outer Diameter mm
Length mm (in)
Nozzle Diameter mm (in)
Approximate Liquid Volume
ml (oz)
ME 1012-0832T Combo Static Mixer - Elements POM Blue - Stepped Tip
12 & 32
10 to 8
14 to 12
409
(16)
2.4 (1/16)
19.0 (0.64)
ME 1312-1032T Combo Static Mixer - Elements POM Blue - Stepped Tip
1 & 32
13 to 10
13 to 10
499
(19.6)
7.2 (1/4)
37.5 (1.27)