Syringe & Dual Cartridge Filling Equipment
Ashby Cross brings its meter, mix, and dispense knowledge to the syringe and dual cartridge filling market. Accurately filling dual barrel cartridge systems is important to the operation of the cartridge. Ashby Cross' dispensing systems accurately fill each side with predetermined amounts of material. A range of systems are available depending on the project. Contact us for selection assistance.
---
Dual Cartridge Filling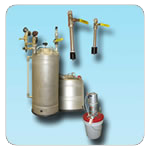 Simple, cost effective method of filling single or dual barrel cartridges from bulk. The filling mandrels are manufactured to fit inside the cartridge. The mandrel assembly has a manually operated ball valve which is used to control flow to the cartridge. The system is designed such that as adhesive flows the cartridge slides off the mandrel.
This method may be used for any single or dual barrel cartridge system. Tanks are available in 1, 3, 5, 10,and 15 gallon stainless steel. Pumping directly from the adhesive manufacturers pails is also an option.
---
AC125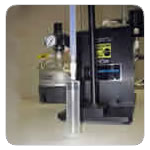 The AC125 adhesive dispensing system is designed with high quality and low up front cost in mind. The system combines the same components used in other Ashby Cross systems along with manual operation.
Read more...
---
2500 Double Acting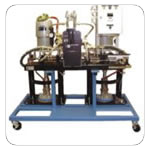 2500 Series Double Acting metering and filling system
Automatically meters and precisely fills each side of the dual barrel cartridge.
Repeatable, uniform filling with positive displacement piston metering
Capable of handling a wide range of cartridges
Provides constant output (no recharge cycle)
Processes low viscosity to paste-like material
Will handle highly filled and abrasive materials
---
1125VR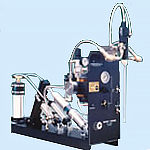 1125 Variable Ratio Filling Machine
Automatic Meter, Mix and Dispense System for small shot production dispensing or R&D material testing, capable of processing a wide range of two-part reactive resins. Will process filled or unfilled materials.
Read more...