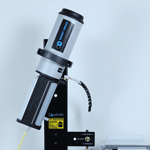 AC200 Dual Cartridge Dispenser

The AC200 benchtop dispenser combines the simplicity and versatility of the dual barrel cartridge with bench mount support, pneumatic foot pedal, air logic, controls, and all the items needed to convert the cartridge to a benchtop potting and encapsulating system.
Standard Features
Converts standard dual cartridges to an automatic, hands-free dispenser
Reduces fatigue Increases productivity and quality
Complete with pneumatic plumbing, gauges, regulators, recharge switch and foot pedal
Heavy duty frame
Options Available
Digital shot timer for greater shot control accuracy
Air operated pinch valve with tips and pinch tubes - used to prevent thin materials from dripping from the mixer tip.
50 ml version (AC 50)
400 ml version (AC 400)
Linear encoder for exact shot duplication available for all dual cartridge systems
Read Article: Maximizing the Efficiency of the Dual Cartridge System
Contact us for selection assistance.